Recipe for the Muesli that went into the first bowl for Oryoki breakfast on May 19th, 2013
Ingredients.
3 tablespoons of apple sauce
2 tablespoons of maple syrup
2 1/2 cups rolled oats
1 teaspoon cinnamon
Pinch of nutmeg
1/2 cup chopped hazelnuts
1/2 cup flaked almonds
1/2 cup pepitas
1 cup shredded coconut
1 1/2 cups puffed rice
1 cup all bran
1/2 cup chopped apricots
1/2 cup dried cranberries
1/2 cup raisins
Method.
Preheat the oven to 200C / 390F. Makes about 8 servings
In a large bowl drizzle the apple sauce and maple syrup all around the inside of the bowl. Add the oats, cinnamon and nutmeg and stir in until all the apple sauce and maple syrup is mixed in.
Spread the oats evenly on a large oven proof tray and bake in the oven for ten minutes.
Remove the oats from the oven and sprinkle the pecans, almonds and pepitas on top. Sprinkle the coconut on last. Return to the oven for around 3 minutes; until the coconut is toasted.
Take from the oven again and add the puffed rice. Turn the oven off and put the muesli back in for a minute to crisp up the puffed rice.
Remove the tray from the oven, pour the muesli back into the bowl with dried fruit. Mix together and leave to cool before storing.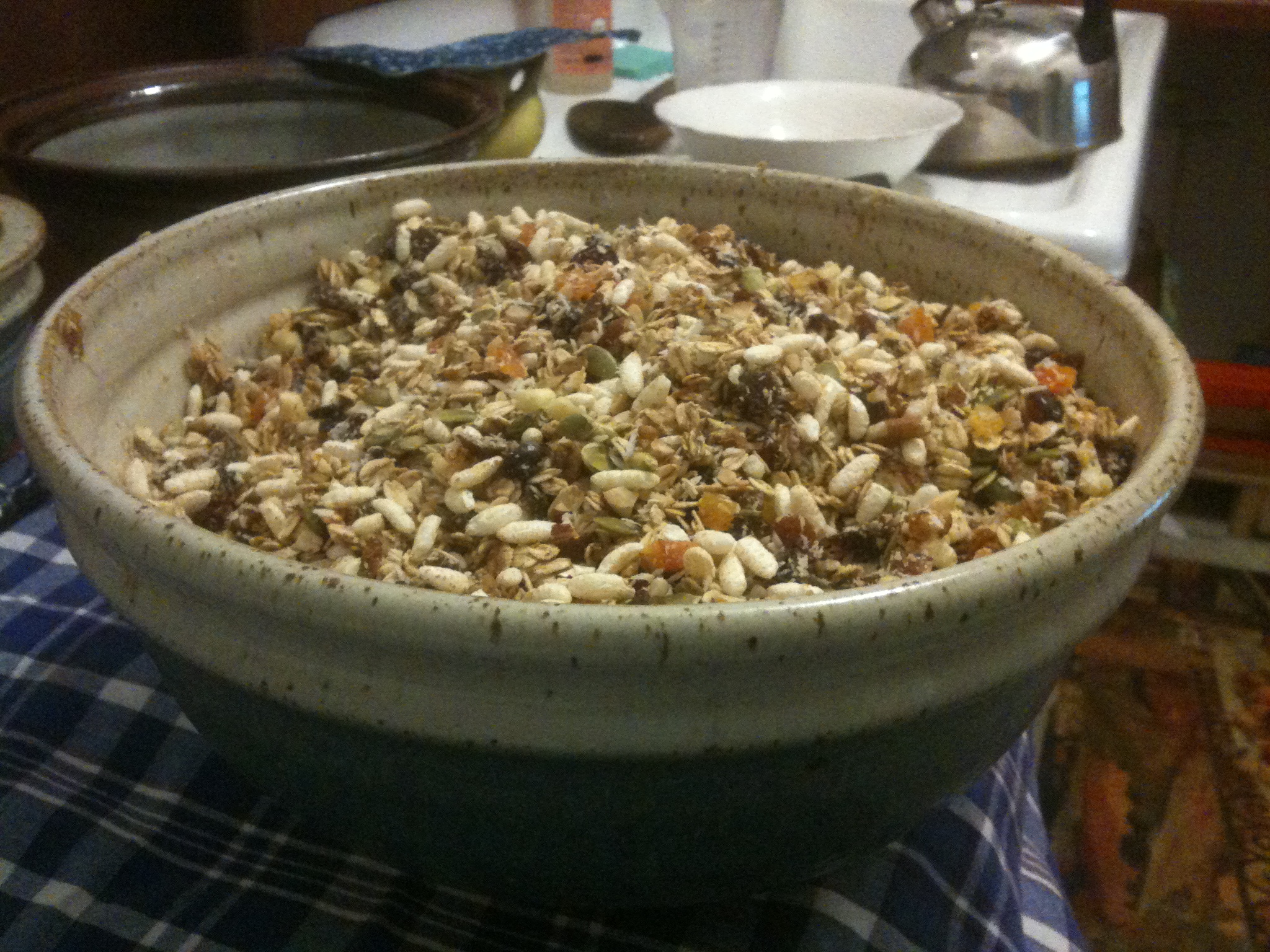 The recipe is a slight adaptation from: http://veganforeveryone.com/recipes/apple-pecan-muesli/