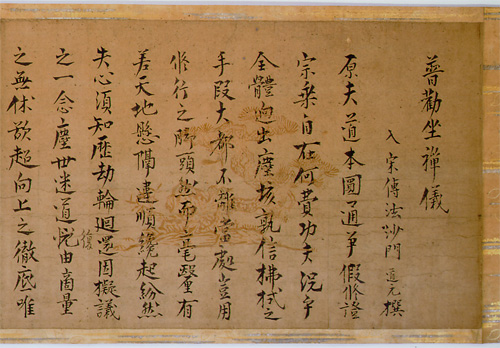 Hey everyone – 
Just yesterday, the reading group finished our third and final session discussing Red Pine's Lankatavara Sutra.  I think we all agreed it was a tough read, but a good text to come back to periodically.  You can read paragraph after paragraph and be totally confused, but then stumble across a passage that really resonates.  Amazing for a text as old as it is, and Red Pine's notes and presentation are, as always, just top notch.  
Next we're going to read the Fukan zazengi, Dogen's classic, short pronouncment/manifesto 'Recommending Zazen to All People'.  It's short, practical, and very beautiful.  
There are numerous translations of this text.  Here are a few on the open internet for your reading pleasure:
http://www.stanford.edu/group/scbs/sztp3/translations/gongyo_seiten/translations/part_3/fukan_zazengi.html
http://www.berkeleyzencenter.org/Texts/fukanzazengi.shtml
http://www.sfzc.org/sp_download/liturgy/21_Fukanzazengi.pdf
Again, it's very short, folks – most translations clock in at under three pages.   
We'll meet on Sunday, January 19th to talk about this text.  Hope you can make it!  
Sam