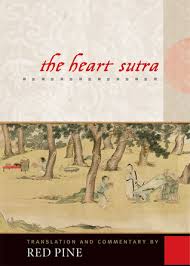 Hi there everyone.
Wanted to let folks know that we'll be doing a full day sit (workin' 9 to 5 this time around) on Sunday, May 18th.  As usual, it'll be at All Beings Zen Center in sunny Adams Morgan.  Please do join us.
The schedule is below.
Also, our book club is on to a new book, and we've chosen Red Pine's translation of The Heart Sutra.  The Heart Sutra is about two pages long, so the book breaks down couplets into chapters, and Red Pine fills us in on the hows, wheres, whos, and whys.  Excited for this one.  Please join us Sunday June 15th 8am-9:30am.  Tea and snacks provided.
Amazon has it of course, but you can also get it maybe here, and also here.
Sunday, May 18th – Full Day Zen Retreat
May 18th All Beings Full Day Zen Retreat-     Draft Schedule
9am Zazen
9:30 Kinhin
9:40 Zazen
10:10 Service Heart Sutra
10:20 Break/Walk
10:50 Zazen
11:20 Kinhin
11:30 Zazen
12:00 Oryoki Lunch
12:45 Break
1:15 Dharma Talk given by Inryu
2:00 Break
2:15 Work Practice (preparing for Dairyu Michael Wenger's Visit on June 1st)
2:45 Kinhin
2:55 Zazen
3:15 Tea/Practice Discussion on the Heart Sutra
3:45 Zazen or Afternoon walk
4:15 Kinhin
4:25  Zazen
4:55 Refuges and closing
5:00 Retreat concludes