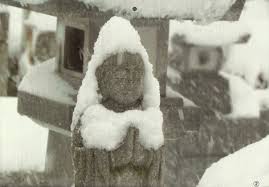 All Beings Sangha members – 
Hope everyone is staying warm out there – man, it is cold (even for this seasoned New Englander).
Just a quick update on some late February and March happenings with All Beings, aside from the Monday, Thursday, and Friday sits and services, which I'd heartily recommend you join if you can bear to leave your house.
This coming Sunday, at All Beings Zendo / Zen Center in Adams Morgan, there will be a meet up for those who are taking or are interested in taking the precepts.  There'll be a short sit, then a discussion, and then some work on rakusu (rakusus? rakusii?).  We'll begin at 8 am.
On Sunday the 1st of March, we'll continue with our discussion of the Diamond Sutra.  We'll begin at 8 am, and there'll be tea and cookies at this one.  It's a real pleasant way to spend a Sunday morning, talking with other members about what they've read, even if we sometimes leave just as perplexed as when we arrived.  So it goes.  It's nice, though.  Bring a copy of the Diamond Sutra in any translation.
Then on Sunday the 15nd of March, we'll have a full-day sit.  So mark your calendars accordingly.
Thanks folks!  Stay warm.
Sam