Sunday March 26th – 8-9:30am Shinren Mark Stone to lead the Dharma Study on the work and life of Leonard Cohen.
Monday April 3rd – 7:15am Oryoki Breakfast following 6:30am morning Zazen
Thursday April 6th – Rev. Inryu Ponce Barger to offer a Dharma Talk following one period of Zazen
April 10-15th – 6 Day Sesshin at Woodburn Hill Farm
April 27th – 7pm Guest Speaker Sensei Ben Connelly on the topic of "Vasubandhu's classic work "Thirty Verses of Consciousness Only"
Saturday April 29th 8-9:30am – Dharma
Our Second Study/Book Discussion "The Mind of Clover" by Robert Aitken – our second revisit of this book.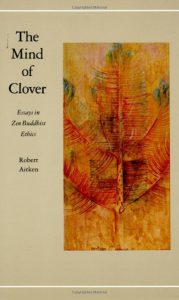 Thursday June 8th 30th 7pm Robert Quinn to offer a Way Seeking Mind Talk following one period of Zazen.