The Dharma of Jikan Leonard Cohen
The iconic songwriter, poet and raconteur was a committed lifelong practitioner of Rinzai zen. Jikan Cohen's Buddhist name—"the silence between two thoughts"—embodies well his many contradictions. This meeting will be guided by Jikan Cohen's music and especially the timeless appeal and compassion of his extraordinary poetry.
The Study session will be lead by: Shinren Mark Stone who received the Buddhist precepts from Dairyu Michael Wenger in the Soto Zen Buddhist lineage and practices with the All Beings sangha. He leads mindfulness classes in residences for men and wome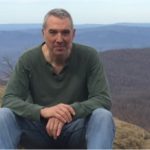 n in transition and at his home. After a career in economic policymaking, he is now an international economics consultant and lives in Washington DC with his wife Jessica and two wonderful sons Sam and Maurie.