Guest Dharma Teacher,  Roshi Kotatsu John Bailes to offer  a Dharma talk on Dogen Zenji's "Ocean Mudra Samadhi".
Sunday April 30th 2pm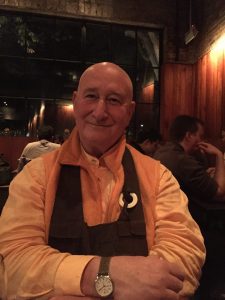 Soto Zen Priest, Kotatsu John Bailes practiced Zen at the San Francisco Zen Center from the age of 19 to 32, 1972 through 1984. He was ordained a Zen Priest by Richard Baker Roshi in 1977, lived at Tassajara Zen Mountain Center, a Zen monastery, for three years, practiced at Green Gulch Farm and the City Center in San Francisco during which time he held various positions from garbage man to Abbot's Assistant and "Head" of the Zendo.
From 1984 until 2004 he practiced as an ordinary citizen while receiving a degree in International Political Economy from Harvard University, developing the Investment Advisory and Securities Division of a regional financial planning firm in the Boston area, marrying the visual artist Jesa Damora in 1989, participating in a sailboat race around the world in 2000 – 01 and becoming a professional sailboat captain, USCG 100 Ton Sail, RYA Yacht Master Ocean, and sailing about all over the world.
In 2004 John returned to community dharma practice, received the precepts from and was recognized and acknowledged as a Zen Teacher by Zoketsu Norman Fischer who invited him to participate in the Everyday Zen Community, the Red Cedar Zen Community of Bellingham, Washington, where he was Shuso, Head Monk, and the Mountain Rain Zen Community of Vancouver BC all of whom so kindly adopted him and helped him Open to this One Heart of Being. We cannot do this alone.
Kotatsu currently resides in Somerville, MA and is the guiding teacher for the Monmouth Zen Circle/Compassion Ocean Sangha in NJ.
RSVP: inryu@allbeingszen.org