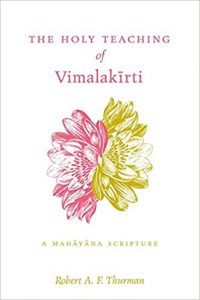 The book we'll be reading this fall is Robert A.F. Thurman's translation of the Vimalakirti Sutra.  The discussions  will be at All Beings on October 14th and November 4th.
There a few different ways to get this text.
It exists at a few university libraries in the area, so if you happen to have borrowing privileges at AU, GW, GM, or UMD, by all means pick up a copy there.
It's on Amazon for $24.
But then also, it's free as a PDF.
Join us October 14th, 2017 8-9:30am to begin our dialogue around this text.  Feel welcome to bring other translations as well.   All are welcome.
The choice is yours!  Hope that helps.  Feel free to e-mail me, Sam Reggio if you're having trouble finding a copy.  Thanks, and happy reading.