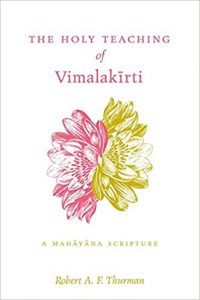 The book we'll be reading this fall is Robert A.F. Thurman's translation of the Vimalakirti Sutra.  The first discussion session will be at All Beings on October 14th – we'll send out details for that closer to the date.
There a few different ways to get this text.
It exists at a few university libraries in the area, so if you happen to have borrowing privileges at AU, GW, GM, or UMD, by all means pick up a copy there.
It's on Amazon for $24.
But then also, it's free as a PDF.
Join us October 14th, 2017 8-9:30am to begin our dialogue around this text.  Feel welcome to bring other translations as well.  Successive Fall Book Group dates will be determined by those there on the 14th.  All are welcome.
The choice is yours!  Hope that helps.  Feel free to e-mail me, Sam Reggio if you're having trouble finding a copy.  Thanks, and happy reading.