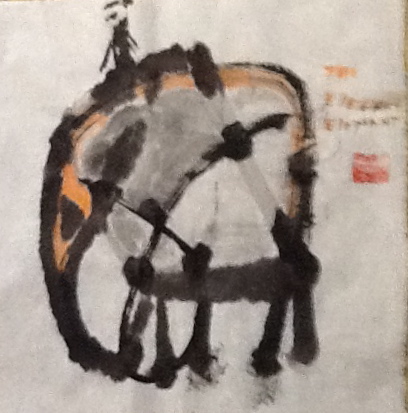 How We Came To Be All Beings Sangha
Founded by a small group of dedicated zen students in 2004, All Beings Zen Sangha continues to serve as a warm space for the Zen Dharma practice in Washington DC, Virginia and  Maryland.
We are grateful for the early guidance and teachings of Zen Master Dae Gak of Furnace Mountain Zen Center, Kentucky, and Curt Steinmetz – Sensei of Dae Do Sah Zen Group in Rockville MD.
Dairyu Michael Wenger of Dragons Leap Temple in San Francisco CA provided early guidance and and continues to be the guiding teacher for our Sangha in the Japanese Soto Zen Buddhist Lineage.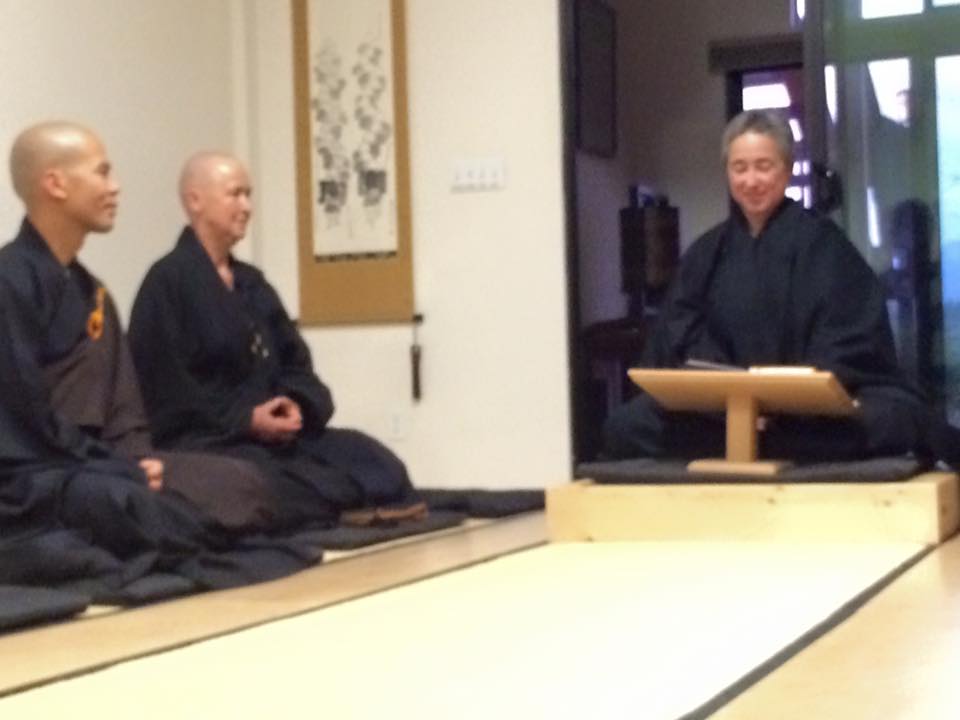 Our resident teacher is Rev. Inryu Bobbi Ponce-Barger.  Sensei was given lay ordination in 2005 in the Soto Zen Buddhist lineage of Shunryu Suzuki Roshi (founder of the San Francisco Zen Center), and given Priest Ordination in January 2013 in that same lineage.  Her Buddhist name is "ShinChi Inryu" (身知隱竜) Body Wisdom Hidden Dragon given to her by her root  teacher Dairyu Michael Wenger .
Rev. Inryu is an Associate Member of the Soto Zen Buddhist Association.  Our Community upholds practices in keeping with the Buddhist Precepts as found in our Ethics Statement here .
Dairyu Wenger offered the name "All Beings Abode" in 2005.   The name is fitting as Inryu and her family are deeply committed friends of all creatures.  And our sangha takes to heart the traditional great zen buddhist vows that we chant together at the end of zazen practice:
Beings are numberless; we vow to save them all.
Delusions are endless; we vow to cut through them all.
The teachings are infinite; we vow to learn them all.
The Buddha Way is inconceivable; we vow to attain it.
How We Practice
"…settle into steady immovable sitting.  Think of not thinking.  Not thinking –what kind of thinking is that?  Non-thinking.  This is the essential art of zazen.  The zazen I speak of… is simply the dharma gate of joyful ease…"  (Eihei Dogen, "Fukanzazengi", 13th century AD)
No prior experience is required; we are all beginners.  Meditation sitting consists of simple, silent sitting.  Our practice is supported when we sit as a group.  Weekly sittings in zazen occur every Thursday evening at 7pm and two mornings each week, Monday and Friday at 6:30 am.  The evening session includes a few traditional chants, two sitting periods with kinhin (walking meditation) at the interval.  For newcomers and beginners an orientation is provided by appointment.
Who We Practice With
"Like a charcoal fire in a hibachi …if you put in just one little coal, it will go out right away.  But if you gather many small coals, each glowing just a little bit, the then fire will flare up.  In the same way every one of us should contribute a little bodhi-mind and thus enable our sangha to thrive."    (Uchiyama, "Opening the Hand of Thought")
The average size of the Thursday sittings is 6-10 people.  We enjoy coming together to sit and share a quiet space together.  All are welcome.
Zen Teachings at All Beings
"What is most difficult for any teacher, especially a Zen teacher, is to teach without teaching anything.  …in the presence of those teachers who give us nothing to stick to, we sense ourselves awakening."   (Edward Espe Brown, "Not Always So")
All Beings Zendo offers a space of simplicity and silence for nurturing growth according to a participant's unique nature.  As a natural extension to this, we remind ourselves regularly of our connection to all beings, as exemplified by our recitation of vows and dedication of merit during our weekly programs.
In addition, talks are sometimes offered through our resident teacher, visiting teachers and sangha members.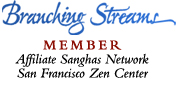 All Beings is a member of the Branching Streams network, affiliated with the San Francisco Zen Center, and in the lineage of Shunryu Suzuki Roshi.
Our Places of Practice
"Just sitting with head covered, all things are at rest.  Thus this mountain monk does not understand at all."  (Sekito Kisen, "Song of the Grass-Roof Hut")
The All Beings Urban Zendo is located in Adams Morgan, approximately 10 minute walk from the Woodley Park Metro.  The zendo is an invitingly simple but aesthetically pleasing space of approximately 600 sq. ft.  It's hardwood floors and other details provide a clean and calming setting.  Well ventilated, cool in summer, warm in winter, it is a comfortable space for "just sitting" (zabutons,  zafus and chairs are provided).  Sangha members also often host special workshops or holiday gatherings in their homes.   And we base our regular un-urban retreat activities at the beautiful Woodburn Hill Farm in St. Mary's County.
You can read our ethics statement here.
Our resident priest is a member of the national